As moms, we strive each day to get it right. What "it" is, and how long it will take to get it that way varies from day to day.
Sometimes "it" is to get one meal on the table that everyone will eat without a fuss. Other days, "it" is to be able to get enough toys off the floor so we can see if the carpet is still the same color. Still other times, "it" is to find that one perfect split second when the house is blessed with quiet, and we can think one complete thought of our own. Sound familiar?
When was the last time you were able to pray and concentrate on that prayer? Have you ever felt so helpless that you just couldn't pray? There are many times we have felt the same and this is the main reason Mothers and Children (MACH 1) came into being.
Spiritual Sisters
At MACH 1 we share laughter, lives, and love of God. We become spiritual sisters in a time when spirituality isn't fostered. We become better able to let go of things that don't matter, and truly focus on what is important.
As women growing in faith, we continually search for Christ's love in our lives. When we gather as moms, we strengthen one another. Our burdens are lightened and our joys are increased. MACH 1 is our gift to you, one mom to another.
Open to All Faiths
While the MACH 1 program provides a more in depth way to learn about scripture and the Catholic Church, it is important to note that mothers from ALL faiths are welcome to participate. MACH1 is an open, supportive approach to bringing mothers together, creating community, and together learning to understand the Bible on a more personal level.
The importance of the Childcare Component
MACH 1 stands for Mothers and Children for good reason -- it's the childcare component that makes this program so unique and workable for moms.
For many of you, childcare availability is a determining factor in whether or not you can participate in such a group. The bonus is that it gives you a chance to spend some time away from family, while still including your children in the process. And it allows an opportunity for them to see at a young age an example of how important it is to maintain a healthy spiritual foundation. It's an impression that will last a lifetime.
The guide book contains information and forms that will help you plan and setup the childcare element of your own MACH 1 group.
Download the free book and start a MACH 1 Bible study group!
The guide book, available for you to download free on our download page, has been prepared to help you plan and give birth to a MACH 1 Bible study group. This book contains all the reader needs to know about the mechanics of MACH 1 from setting up the childcare area to Bible study lessons. A complete bibliography has been provided, as well as term definitions within the lessons themselves.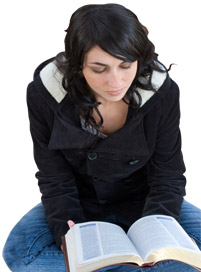 The text is arranged to be read aloud in a group setting. The paragraphs have spaces between them which allows a natural stopping point for the reader, and the discussion questions connect faith to daily life in a way which promotes deeper thought and personal reflection.
Get the free book and begin planning your MACH 1 Bible study group today!
MOMS NEEDED!!
Are you currently in a MACH 1 group, or do
you want to start a MACH 1 group near Wheaton, IL? I have a mom who would like
to hear from you!! Please contact me at
carol@makingconnections.org